Redeem your youth this monsoon!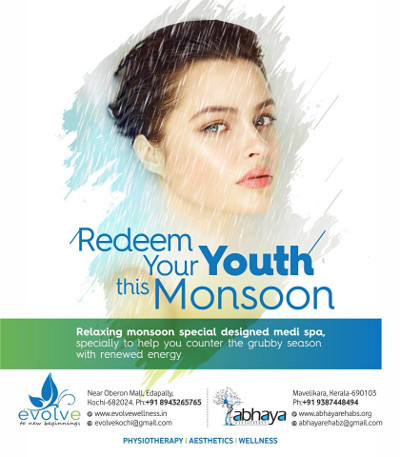 With the #monsoon upon is in full swing, a rejuvenating #medi #spa session is the perfect way to make you day worth the while. Evolve Wellness, now introduces a relaxing #monsoon special designed medi spa, specially to help you counter the grubby season with renewed energy.
One can begin the rejuvenating experience with a specialised #applicator that leaves you with glowing and refreshed skin.This can be followed with a refreshing #sauna or #steam bath of your choice. Apart from the monsoon special, one can indulge in the therapeutic manicures and pedicures offered. The soft and supple massages on your hands and feet that provide the double benefit of protection from infections as well as relaxation are something that you should not miss this season.
Benefits
Cellulite Reduction
Lymphatic Drainage
Slimming and Reducing
Full Body Exfoliation
Relaxation Treatment
Detoxification
Myofascial Release
Scar Tissue Reduction
Recent Posts
Archive
2018
Categories
Tags
Authors
Feeds
RSS
/
Atom